I'VE SEEN PARADISE!!! Where? In Mazunte! A neat village at the pacific coast, 1km of clean beach, half a dozen restaurants and a few cabaña rentals. We lived in the cabaña on the top left photo. And we only stayed a few days. That was a mistake...
Sunrise in Mazunte. This place was too great to miss a second of daylight!
Swimming with free sea turtles in the pacific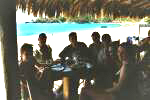 Some more people were enjoying this paradise: a group of 6 french guys (if you recognize any of them, let me know!!!) - and Russell from New Zealand, together with Nicole and me.